MIAMI LAKES, Fla. (FWAA) – Alex Charlton is the winner of the 2020 Capital One Orange Bowl Courage Award. Charlton left his post as an Arkansas State analyst to join the front lines of the pandemic as a COVID-19 response team nurse.
"I love football and I miss it on a daily basis," Charlton said. "But when you go to New York to help out at the peak of everything and you see all that is going on in the rest of the country, to me, how can you not do anything about it when you're capable of helping?"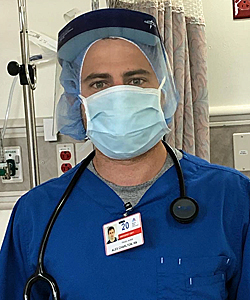 Alex Charlton
In March, Charlton became a graduate assistant at Midwestern State, a Division II school in Wichita Falls, Texas. An Overland Park, Kan., native, Charlton had attended Kansas, where he was as a student assistant for the Jayhawks and stayed on after his 2013 graduation, serving as a player personnel assistant and a graduate assistant.
From there, Charlton enrolled in nursing school at University of Missouri-Kansas City in 2015. He scratched the football itch by helping out as an assistant coach at several area high schools.
Shortly after landing with Midwestern State, Charlton left his job to work as a nurse in New York, which was experiencing nearly 5,000 coronavirus cases a day at the height of the pandemic. Charlton stayed until June, when cases had fallen to roughly 1,000 per day. He returned home to Kansas, then went back to his post with the Mustangs at Midwestern State.
Late in July, Arkansas State hired Charlton as a defensive analyst. But on Aug. 9, Charlton left football again when his services were needed the most, going to Ennis, Texas to again work as a COVID-19 nurse.
Arkansas State was coached at the time by Blake Anderson, who won the 2019 Capital One Orange Bowl-FWAA Courage Award for the way he guided the Red Wolves after the death of his wife, Wendy, who passed away after a two-year battle with breast cancer. (Anderson was recently hired as Utah State's coach.)
"It's an honor to be selected for this award, especially with somebody like Blake, who has won it himself," Charlton said. "It's pretty special and heartwarming."
The 30-year-old Charlton is currently living in Fort Worth, Texas, about an hour northwest of Ennis Regional Medical Center. He will be there until at least the end of January, and likely longer. Every week brings a new schedule, and new challenges. All of it is worthwhile, Charlton says, knowing that he is doing his part to make a difference during a time in which the country is in dire need of medical personnel.
He watches as much football as he can when he's not working. Sometimes, when he gets a free hour or two during a night shift, he will watch recorded games and catch up on box scores from around the nation.
"I cannot think of an individual who is more deserving of this award than Alex, especially given these challenging times for everyone," former FWAA President Matt Fortuna said. "Here is a young man who is making an incredible sacrifice by risking his health and his career to serve others and make this world a better place.
"Alex truly walks the walk, and he sets an incredible example for the rest of us to try to live up to."
Charlton hopes to get back involved with football when the time allows for it. For now, he is answering a higher calling, working diligently to provide care for the sick in a region that needs his help, for however long that may be.
"I have seen all of the people who have won this award, and to be in that group is pretty special," Charlton said. "Thank you to everybody for their support."
The Courage Award was first presented by the Football Writers Association of America (FWAA) in 2002. A select group of writers from the FWAA vote on the winner each year. The requirements for nomination include displaying courage on or off the field, including overcoming an injury or physical handicap, preventing a disaster or living through hardship. The winner of the award will be included in festivities during Capital One Orange Bowl week and receive his trophy at an on-field presentation.
Previous winners of the Capital One Orange Bowl-FWAA Courage Award are Arkansas State coach Blake Anderson (2019), SUNY Cortland linebacker Kyle Richard (2018), Wisconsin safety D'Cota Dixon (2017), Pitt running back James Conner (2016), Miami offensive lineman Hunter Knighton (2015), Duke offensive lineman Laken Tomlinson (2014), San Jose State defensive lineman Anthony Larceval (2013), Clemson wide receiver Daniel Rodriguez (2012), Michigan State offensive lineman Arthur Ray Jr. (2011), Rutgers defensive tackle Eric LeGrand (2010), the University of Connecticut football team (2009), Tulsa's Wilson Holloway (2008), Navy's Zerbin Singleton (2007), Clemson's Ray Ray McElrathbey (2006), the Tulane football team (2005), Memphis' Haracio Colen (2004), San Jose State's Neil Parry (2003) and Toledo's William Bratton (2002).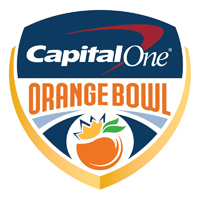 About the Orange Bowl
The Orange Bowl is a 380-member, primarily-volunteer non-profit sports organization that promotes and serves the South Florida community. With its primary mission since being created in 1935 to bring tourism to South Florida through an annual football game and events, it has also maintained a legacy of charitable contributions and community outreach. Orange Bowl community outreach efforts are comprised of four pillars: youth sports, fundraising and community events, academic programs and scholarships, and legacy gifts. The Orange Bowl features a year-round schedule of events culminating with the Capital One Orange Bowl on Jan. 2, 2021. The Orange Bowl also led a community-wide effort to bring the 2021 College Football Playoff National Championship to South Florida. It will be played on Jan. 11, 2021 (2021miami.com). For more information on the 2020-2021 Orange Bowl events, including promotional and volunteer opportunities through the Ambassador Program presented by Panera Bread, log on to orangebowl.org or follow @OrangeBowl on social media.
Founded in 1941, the Football Writers Association of America consists of 1,300 men and women who cover college football. The membership includes journalists, broadcasters and publicists, as well as key executives in all the areas that involve the game. The FWAA works to govern areas that include game-day operations, major awards and its annual All-America team. For more information about the FWAA and its award programs, contact Steve Richardson at tiger@fwaa.com.
2020 Capital One Orange Bowl Courage Award Nominees
• Oct. 28: Jon Dietzen, Wisconsin
• Nov. 4: Alex Charlton, Midwestern State/Arkansas State
• Nov. 11: D'Eriq King, Miami
• Nov. 18: Kentucky Wildcats
• Nov. 25: Chase Allen, Iowa State
• Dec. 2: Sarah Fuller, Vanderbilt
Related link:
• Capital One Orange Bowl Courage Award