DALLAS (FWAA) – The Football Writers Association of America is now accepting nominations for the 2021 Edward Aschoff Rising Star Award.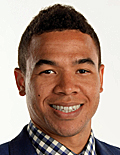 Edward Aschoff
Aschoff, a beloved ESPN college football reporter, died on Christmas Eve, 2019 – his 34th birthday – from previously undetected Stage 4 non-Hodgkin's lymphoma in his lungs. He was a bright light in our industry, who the FWAA now honors with this award – one promising journalist no older than 34, who has not only the talent and work ethic it takes to succeed in this business, but also the passion to make it better.
For the 2021 award, please send a paragraph or two about the nominee, including why you are nominating him or her, and three links of work samples to 2021 FWAA President Heather Dinich at heather.dinich@espn.com.
In the nomination email, please include your name, job title and a phone number. The birthdate of the nominee also should be included. A panel of FWAA members will choose the winner. Entries should be submitted by June 1.
The FWAA will present the 2021 award recipient a special honorary trophy with Aschoff's image. David Ubben of The Athletic was the first honoree in 2020.
A 2008 graduate of the University of Florida, Aschoff loved people, and even as his career at ESPN escalated, he still guided and befriended younger journalists along the way.
In 2017, Aschoff moved to Los Angeles to begin a more expanded national role that included television coverage. He reported from campuses across the country for ESPN.com, SportsCenter, SEC Network and ESPN Radio, and he worked as a television and radio sideline reporter during college football games.
Aschoff inspired us through his storytelling, brightened our lives with his gregarious personality, and uplifted our spirits with his energy. The FWAA hopes to honor his memory and his commitment to aspiring journalists with this award.
"Edward epitomized everything you want in a sports journalist: He knew how to build relationships, to gain trust, to break stories but also to tell stories," said ESPN.com's Andrea Adelson. "And he did it all with a flair that made you want to watch his television pieces or read his written stories right away. His dogged determination and relentless work ethic allowed him to rise to the top at ESPN, and all his exemplary qualities serve as a model for young journalists everywhere about what truly can be achieved if you go after what you want."
The initial honoree, Ubben, the FWAA's 2001 first vice-president, has covered Tennessee football for The Athletic since May of 2018. After graduating from Missouri in 2009 he was the Oklahoma Sooners beat writer for The Oklahoman before leaving to write about Big 12 football at ESPN.com for three and half years.
Ubben then spent another two years at Fox Sports Southwest writing columns about Big 12 sports and serving as a television analyst for the network. In 2015, Ubben was a freelancer and wrote for a variety of outlets including Sports on Earth and The Athletic, while also launching his own podcast. In 2018, he took a job as the college insider and editor at Dave Campbell's Texas Football before moving from Dallas to Knoxville later that year to join The Athletic full-time.
Founded in 1941, the Football Writers Association of America consists of 1,300 men and women who cover college football. The membership includes journalists, broadcasters and publicists, as well as key executives in all the areas that involve the game. The FWAA works to govern areas that include game-day operations, major awards and its annual All-America team. For more information about the FWAA and its award programs, contact Steve Richardson at tiger@fwaa.com.
Related links:
• Give to the Edward Aschoff Memorial Fund at the University of Florida
• Feb. 13: FWAA creates new award in memory of Edward Aschoff