DALLAS (FWAA) – The Football Writers Association of America has released its 2008 Outland Trophy Watch List, which includes two linemen from its 2007 All-America Team – Arkansas center Jonathan Luigs and West Virginia offensive tackle Ryan Stanchek. Seventy standout linemen from around the country have been nominated for consideration in the preseason.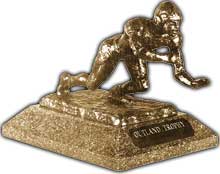 The Outland Trophy has been awarded to the best interior lineman in college football since 1946. With input from the entire FWAA membership, the winner is selected by the FWAA's All-America Committee, which selects the association's 25-man All-America team and picks the three Outland Trophy finalists and the winner.
The 2008 Outland Trophy announcement will be on Dec. 11 in Orlando, Fla., on the ESPNU Home Depot College Football Awards Show. Three finalists will appear on the show. The Outland Trophy presentation banquet, sponsored by the Greater Omaha Sports Committee, will be on Jan. 15, 2008 in Omaha, Neb.
The Outland Trophy is named after the late John Outland, a lineman at Pennsylvania at the turn of the century. Senior defensive tackle Glenn Dorsey, who played for the national champion LSU Tigers, won the 2007 Outland Trophy.
Nebraska has more Outland Trophy winners than another school. Seven Cornhuskers have claimed the trophy, with Nebraska center Dave Rimington being the only player to win it twice (in 1981 and '82).
Additional Outland Trophy candidates may be added during the course of the season. Tackles, guards and centers are eligible for consideration.
2008 OUTLAND TROPHY PRESEASON WATCH LIST
Player, School
Pos.
Cl.
Hometown
Geno Atkins, Georgia
DT
Jr.
Pembroke Pines, Fla.
Ted Bentler, Army
DT
Jr.
Davenport, Iowa
Ciron Black, LSU
OT
Jr.
Tyler, Texas
Alex Boone, Ohio State
OT
Sr.
Lakewood, Ohio
Ron Brace, Boston College
DT
Sr.
Springfield, Mass.
Robert Brewster, Ball State
OT
Sr.
Cincinnati, Ohio
Eben Britton, Arizona
OT
Jr.
Burbank, Calif.
George Bussey, Louisville
OT
Sr.
Louisville, Ky.
Jeff Byers, USC
G
Sr.
Fort Collins, Colo.
Terrill Byrd, Cincinnati
DT
Sr.
Cincinnati, Ohio
Gerald Cadogan, Penn State
OT
Sr.
Portsmouth, Ohio
Antoine Caldwell, Alabama
C
Sr.
Montgomery, Ala.
Anthony Davis, Rutgers
OT
So.
Piscataway, N.J.
Cedric Dockery, Texas
G
Sr.
Garland, Texas
John Estes, Hawaii
C
Jr.
Stockton, Calif.
Ray Feinga, BYU
G
Sr.
West Valley City, Utah
Alex Fletcher, Stanford
C
Sr.
Old Brookville, N.Y.
John Fletcher, Wyoming
DT
Jr.
Erie, Colo.
Xavier Fulton, Illinois
OT
Sr.
Flossmoor, Ill.
Andrew Gardner, Georgia Tech
OT
Sr.
Tyrone. Ga.
John Gill, Northwestern
DT
Sr.
Los Altos Hills, Calif.
DeMarcus Granger, Oklahoma
DT
Jr.
Dallas, Texas
Brigham Harwell, UCLA
DT
Sr.
Chino Hills, Calif.
Brett Helms, LSU
C
Sr.
Stuttgart, Ark.
Ziggy Hood, Missouri
DT
Sr.
Amarillo, Texas
George Hypolite, Colorado
DT
Sr.
Los Angeles, Calif.
Greg Isdaner, West Virginia
G
Jr.
Gladwyne, Pa.
Ricky Jean-Francois, LSU
DT
Jr.
Miami, Fla.
John Jerry, Mississippi
OT
Jr.
Batesville, Miss.
Peria Jerry, Mississippi
DT
Sr.
Batesville, Miss.
Herman Johnson, LSU
G
Sr.
Olla, La.
Arthur Jones, Syracuse
DT
Jr.
Endicott, N.Y.
Mitch King, Iowa
DT
Sr.
Burlington, Iowa
Matt Kroul, Iowa
DT
Sr.
Mount Vernon, Iowa
Andy Levitre, Oregon State
OT
Sr.
Ben Lomond, Calif.
Phil Loadholt, Oklahoma
OT
Sr.
Fountain, Colo.
Jonathan Luigs, Arkansas
C
Sr.
Little Rock, Ark.
Alex Mack, California
C
Sr.
Santa Barbara, Calif.
Matt Mandich, Arkansas State
OT
Sr.
Hattiesburg, Miss.
Sen'Derrick Marks, Auburn
DT
Jr.
Mobile, Ala.
Ryan McDonald, Illinois
C
Sr.
Holland, Mich.
Josh McNeil, Tennessee
C
Jr.
Collins, Miss.
Fili Moala, USC
DT
Sr.
Buena Park, Calif.
Eugene Monroe, Virginia
OT
Sr.
South Plainfield, N.J.
Gus Mustakas, Pittsburgh
DT
Sr.
Cooper City, Fla.
Vince Oghobaase, Duke
DT
Jr.
Houston Texas
Michael Oher, Mississippi
OT
Sr.
Memphis, Tenn.
Jeff Owens, Georgia
DT
Sr.
Sunrise, Fla.
Anthony Parker, Tennessee
G
Sr.
Jonesboro, Ga.
Jeremy Perry, Oregon State
G
Sr.
Hau'ula, Hawaii
Steve Rehring, Ohio State
G
Sr.
West Chester, Ohio
Sergio Render, Virginia Tech
G
Jr.
Newnan, Ga.
Dallas Reynolds, BYU
OT
Sr.
Provo, Utah
Duke Robinson, Oklahoma
G
Sr.
Atlanta, Ga.
Ryan Schmidt, USF
G
Sr.
Boca Raton, Fla.
Dorell Scott, Clemson
DT
Sr.
Columbia, S.C.
Sean Sester, Purdue
OT
Sr.
Fort Thomas, Ky.
A.Q. Shipley, Penn State
C
Sr.
Coraopolis, Pa.
Andre Smith, Alabama
OT
Jr.
Birmingham, Ala.
Ryan Stanchek, West Virginia
OT
Sr.
Cincinnati, Ohio
Jim Tartt, Florida
G
Jr.
Sopchoppy, Fla.
Terrance Taylor, Michigan
DT
Sr.
Muskegon, Mich.
Fenuki Tupou, Oregon
OT
Sr.
Elverta, Calif.
Max Unger, Oregon
C
Sr.
Honaunau, Hawaii
Kraig Urbik, Wisconsin
G
Sr.
Hudson, Wis.
Louis Vasquez, Texas Tech
G
Sr.
Corsicana, Texas
Vance Walker, Georgia Tech
DT
Sr.
Fort Mill, S.C.
Garry Williams, Kentucky
OT
Sr.
Louisville, Ky.
Eric Wood, Louisville
C
Sr.
Cincinnati, Ohio
Sam Young, Notre Dame
OT
Jr.
Coral Springs, Fla.
Tackles, guards and centers are eligible for consideration
Candidates may be added or removed during the season
The Football Writers Association of America, a non-profit organization founded in 1941, consists of more than 900 men and women across North America who cover college football for a living. The membership includes journalists, broadcasters and publicists, as well as key executives in all the areas that involve the game. The FWAA works to govern areas that include gameday operations, major awards, a national poll and its annual All-America team.
For more information on the Outland Trophy, go to the official website, www.outlandtrophy.com, or contact FWAA executive director Steve Richardson (972-713-6198 or tiger@fwaa.com).
Related links:
• All-time Outland Trophy winners
• Outland Trophy official site (outlandtrophy.com)