DALLAS (FWAA) – For the second straight season, the two best conferences in college football dominated the Football Writers Association of America's All-America Team. The association's 65th edition was led by seven players from the offensive-laden Big 12 Conference and six from the more defensive-oriented Southeastern Conference.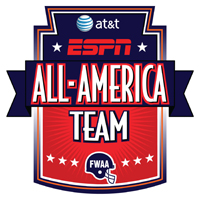 The FWAA All-America Team, the second longest continuously published team in major college football, was announced today on ABC-TV at 5 p.m. ET for the fifth straight season during a one-hour show that was sponsored by AT&T. The FWAA has named an All-America team in some form since 1944.
Highlighting the offensive side of the ball were six players from the Big 12, which produced five of college football's most productive offensives in 2008. Texas' Colt McCoy is the quarterback of the team, and his teammate end Brian Orakpo is the Big 12's lone representative on the defensive side of the ball.
Meanwhile, Alabama tackle Andre Smith, the 2008 Outland Trophy winner, is one of two SEC players on the offensive side of the ball along with Ole Miss tackle Michael Oher. The SEC landed three players on the defensive side of the ball, along with one on special teams.
Five schools among the nation's Top 10 – Alabama, Florida, Penn State, Texas and USC – each have two players on the team. There are two repeaters on the FWAA team from last season, Texas Tech wide receiver Michael Crabtree and Utah kicker Louie Sakoda. Sakoda, however, made the 2007 team as a punter. And for the second straight season, Missouri has a tight end on the team. This season Chase Coffman succeeded Martin Rucker at that spot.
After the Big 12 and SEC, the Big Ten Conference is next with four selections and the Big East, Pacific-10 and Mountain West had two each. The Atlantic Coast Conference and Conference USA each has one player on the team. Orakpo, one of two ends from the state of Texas on the team, claimed the FWAA's Bronko Nagurski Trophy as the nation's top defender.
2008 FWAA ALL-AMERICA TEAM
OFFENSE
QB
Colt McCoy, Texas
6-3
210
Jr.
Tuscola, Texas
RB
Shonn Greene, Iowa
5-11
235
Jr.
Sicklerville, N.J.
RB
Kendall Hunter, Oklahoma State
5-8
190
So.
Tyler, Texas
WR
Michael Crabtree, Texas Tech
6-3
214
So.
Dallas, Texas
WR
Jarett Dillard, Rice
5-11
185
Sr.
San Antonio, Texas
TE
Chase Coffman, Missouri
6-6
245
Sr.
Peculiar, Mo.
OL
Michael Oher, Mississippi
6-5
318
Sr.
Memphis, Tenn.
OL
Duke Robinson, Oklahoma
6-5
335
Sr.
Atlanta, Ga.
OL
Andre Smith, Alabama
6-4
330
Jr.
Birmingham, Ala.
OL
Jason Smith, Baylor
6-5
305
Sr.
Dallas, Texas
C
A.Q. Shipley, Penn State
6-1
297
Sr.
Coraopolis, Pa.
DEFENSE
DL
Terrence Cody, Alabama
6-5
365
Jr.
Fort Myers, Fla.
DL
Jerry Hughes, TCU
6-2
248
Jr.
Sugar Land, Texas
DL
Aaron Maybin, Penn State
6-4
236
So.
Ellicott City, Md.
DL
Brian Orakpo, Texas
6-4
260
Sr.
Houston, Texas
LB
Rey Maualuga, USC
6-2
260
Sr.
Eureka, Calif.
LB
Scott McKillop, Pittsburgh
6-2
240
Sr.
Export, Pa.
LB
Brandon Spikes, Florida
6-3
245
Jr.
Shelby, N.C.
DB
Eric Berry, Tennessee
5-11
195
So.
Fairburn, Ga.
DB
Malcolm Jenkins, Ohio State
6-1
201
Sr.
Piscataway, N.J.
DB
Taylor Mays, USC
6-3
230
Jr.
Seattle, Wash.
DB
Alphonso Smith, Wake Forest
5-9
190
Sr.
Pahokee, Fla.
SPECIAL TEAMS
K
Louie Sakoda, Utah
5-9
178
Sr.
San Jose, Calif.
P
Kevin Huber, Cincinnati
6-1
220
Sr.
Cincinnati, Ohio
RS
Brandon James, Florida
5-7
186
Jr.
St. Augustine, Fla.
All-Time All-America Teams (since 1944)
First selected three years after the organization was formed, the FWAA's inaugural team included Army's Heisman Trophy tandem of Doc Blanchard and Glenn Davis and Georgia Tech's Frank Broyles, who later became Arkansas' head football coach and athletic director.
Over the years, the FWAA Team has highlighted all the game's great players in several media forums.
From 1946-70, LOOK Magazine published the FWAA team and brought players and selected writers to New York City for a celebration. During that 25-year period, the FWAA team was introduced on national television shows by Bob Hope, Steve Allen, Perry Como and others.
After LOOK folded, the FWAA started a long association with NCAA Films (later known as NCAA Productions), which produced a 30-minute television show and sold it to sponsors. The team was part of ABC Television's 1981 College Football Series.
From 1983-90, the team was either on ABC or ESPN, and now has returned to the national spotlight on ABC.
The FWAA team has included most of the Heisman Trophy and Maxwell Award winners over the years and Outland Trophy winners. Those are the three oldest awards in major-college football.
For 65 years, the FWAA has selected an All-America team with the help of its members and an All-America Committee which represents all the regions in the country. The FWAA also selects the Outland Trophy winner (best interior lineman) and also the Bronko Nagurski Trophy winner (best defensive player).
Some of the true greats of the writing profession have helped to select this team over the years: Mark Blaudschun, Grantland Rice, Bert McGrane, Blackie Sherrod, Furman Bisher, Pat Harmon, Fred Russell, Edwin Pope, Murray Olderman, Paul Zimmerman and the list goes on and on. It is a team steeped in tradition and history and selected by a writers' group with the same attributes.
The Football Writers Association of America, a non-profit organization founded in 1941, consists of nearly 1,000 men and women across North America who cover college football for a living. The membership includes journalists, broadcasters and publicists, as well as key executives in all the areas that involve the game. The FWAA works to govern areas that include gameday operations, major awards, a national poll and its annual All-America team.
For more information on the FWAA All-America Team and the FWAA, contact FWAA executive director Steve Richardson (972-713-6198 or tiger@fwaa.com).
Related links:
• FWAA All-America Team
• All-Time FWAA All-Americans (.pdf)