DALLAS (FWAA) – With their 17-6 win at South Carolina, the Vanderbilt Commodores (4-3) are the Tostitos Fiesta Bowl National Team of the Week for games of the weekend of Oct. 20.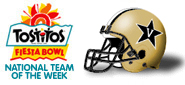 Mackenzi Adams threw two touchdown passes and D.J. Moore intercepted two passes for a Vandy defense that held South Carolina to 195 total yards.
The win marked Vanderbilt's first win over a team ranked as high as No. 6 since a 7-6 win over LSU in 1937.
"I'm proud of the effort of our team." Vanderbilt coach Bobby Johnson said. "They played extremely hard and tried to execute the game plan while they were out there. We didn't always do it, but the majority of the time we played extremely well. I thought we played extremely aggressive on defense."
Other Tostitos Fiesta Bowl Bowl National Team of the Week nominees for the weekend of Oct. 20 included:
• Kansas (7-0): The Jayhawks moved to 7-0 for just the second time since 1968 with a 19-14 win at Colorado, their first win in Boulder since 1995.

• Rutgers (5-2): Ray Rice ran for 181 yards and the Scarlet Knights handed South Florida its first loss of the season, 30-27.

• Temple (3-5): The Owls won their third straight game for the first time since 1990 with a 24-17 triumph over Miami (Ohio).
The FWAA has named a national team of the week since the 2002 season. This is the third season that the award has been sponsored by the Tostitos Fiesta Bowl.
Select members of the FWAA board of directors decide the weekly honor. Each Monday during the 2007 college football season, the FWAA will name the Tostitos Bowl National Team of the Week through Nov. 26.
Since 1971, the Tostitos Fiesta Bowl has hosted six games that have decided the college football national championship, including three Bowl Championship Series title games. Last season, the Tostitos Fiesta Bowl presented three post-season games, including the Insight Bowl and the BCS title game. This season the game will be played on Jan. 2, 2008 at University of Phoenix Stadium in Glendale, Ariz.
For more information on the Tostitos Fiesta Bowl National Team of the Week, go to www.footballwriters.com or www.fiestabowl.org.