DALLAS (FWAA) – With their 24-23 win at USC, the Stanford Cardinal (2-3) are the Tostitos Fiesta Bowl National Team of the Week for games of the weekend of Oct. 6.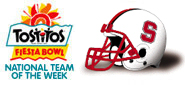 Stanford scored 17 points in the fourth quarter and finished a rally from a nine-point deficit when Tavita Pritchard threw a 10-yard touchdown pass to Mark Bradford on 4th-and-goal with 49 seconds remaining. Four plays before the winning touchdown pass, Pritchard, making his first collegiate start, converted a 4th-and-20.
The upset ended USC's 35-game winning streak at the Los Angeles Coliseum. The Trojans hadn't lost at home since Stanford beat them 21-16 on Sept. 29, 2001.
"I give all the credit to the Stanford football players," head coach Jim Harbaugh said after the game. "They played like their lives depended on it. They played smart; they played sound. They just won it."
Other Tostitos Fiesta Bowl Bowl National Team of the Week nominees for the weekend of Oct. 6 included:
• Cincinnati (6-0): Ben Mauk threw three touchdown passes as the Bearcats improved to 6-0 for the first time since 1954 with their ninth straight win, 28-23 at Rutgers.

• Illinois (5-1): Rashard Mendenhall ran for 160 yards and two touchdowns as the Fighting Illini topped Wisconsin, 31-26, to end the Badgers' 14-game winning streak.

• Missouri (5-0): Chase Daniel threw for a career-high 401 yards and added 72 on the ground as the Tigers humbled Nebraska, 41-6.
The FWAA has named a national team of the week since the 2002 season. This is the third season that the award has been sponsored by the Tostitos Fiesta Bowl.
Select members of the FWAA board of directors decide the weekly honor. Each Monday during the 2007 college football season, the FWAA will name the Tostitos Bowl National Team of the Week through Nov. 26.
Since 1971, the Tostitos Fiesta Bowl has hosted six games that have decided the college football national championship, including three Bowl Championship Series title games. Last season, the Tostitos Fiesta Bowl presented three post-season games, including the Insight Bowl and the BCS title game. This season the game will be played on Jan. 2, 2008 at University of Phoenix Stadium in Glendale, Ariz.
For more information on the Tostitos Fiesta Bowl National Team of the Week, go to www.footballwriters.com or www.fiestabowl.org.