DALLAS (FWAA) – With their 41-21 win over at Texas, the Kansas State Wildcats (3-1) are the Tostitos Fiesta Bowl National Team of the Week for games of the weekend of Sept. 29.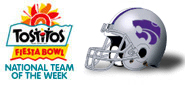 The Wildcats returned an interception, a kickoff and a punt for touchdowns as they handed Texas coach Mack Brown his worst home loss in ten years.
The K-State defense intercepted four passes in defeating Texas for the second straight season. The 41 points were the most scored by a Texas opponent in Austin since 1997.
"We're not the biggest and strongest team in the country," Kansas State coach Ron Prince said. "We had to create some havoc."
Other Tostitos Fiesta Bowl Bowl National Team of the Week nominees for the weekend of Sept. 29 included:
• Auburn (3-2): Wes Bynum nailed a 43-yard field goal on the game's final play as the Tigers ended Florida's 11-game winning streak, 20-17.

• Colorado (3-2): Kevin Eberhart kicked a 45-yard field as time expired to cap a 20-point rally in a 27-24 upset victory over Oklahoma.

• South Florida (5-0): Ben Moffitt intercepted two passes, including one for a touchdown, as the Bulls upset West Virginia, 21-13.
The FWAA has named a national team of the week since the 2002 season. This is the third season that the award has been sponsored by the Tostitos Fiesta Bowl.
Select members of the FWAA board of directors decide the weekly honor. Each Monday during the 2007 college football season, the FWAA will name the Tostitos Bowl National Team of the Week through Nov. 26.
Since 1971, the Tostitos Fiesta Bowl has hosted six games that have decided the college football national championship, including three Bowl Championship Series title games. Last season, the Tostitos Fiesta Bowl presented three post-season games, including the Insight Bowl and the BCS title game. This season the game will be played on Jan. 2, 2008 at University of Phoenix Stadium in Glendale, Ariz.
For more information on the Tostitos Fiesta Bowl National Team of the Week, go to www.footballwriters.com or www.fiestabowl.org.