DALLAS (FWAA) – With their 34-32 win at Michigan, the Appalachian State Mountaineers (1-0) are the Tostitos Fiesta Bowl National Team of the Week for games of the weekend of Sept. 1.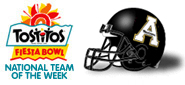 Julian Rauch kicked a 24-yard field goal with 26 seconds left and Corey Lynch blocked a Michigan field goal attempt in the final seconds as Appalachian State, which led, 31-20, before a late Michigan rally, pulled off the miraculous upset. It was Appalachian State's 15th straight win.
"Someone said it might be one of the big victories in college football," Appalachian State head coach Jerry Moore said after the game. "It may be the biggest."
The Mountaineers, the two-time defending Division I Championship Subdivision national champions, became the first team from that division (formerly Division I-AA) to beat a ranked team from the Bowl Subdivision (formerly Division I-A). They are also the first team from the FCS to win the honor in the six-year history of the national team of the week.
Other Tostitos Fiesta Bowl Bowl National Team of the Week nominees for the weekend of Sept. 1 included:
• California (1-0): DeSean Jackson returned a punt 77 yards for a score Justin Forsett ran for 158 yards as the Bears topped Tennessee, 45-31, to avenge a 35-18 defeat from a year ago.

• Georgia Tech (1-0): Tashard Choice ran for 196 yards and two scores as the Ramblin' Wreck dismantled Notre Dame on the road, 33-3.
The FWAA has named a national team of the week since the 2002 season. This is the third season that the award has been sponsored by the Tostitos Fiesta Bowl.
Select members of the FWAA board of directors decide the weekly honor. Each Monday during the 2007 college football season, the FWAA will name the Tostitos Bowl National Team of the Week through Nov. 26.
Since 1971, the Tostitos Fiesta Bowl has hosted six games that have decided the college football national championship, including three Bowl Championship Series title games. Last season, the Tostitos Fiesta Bowl presented three post-season games, including the Insight Bowl and the BCS title game. This season the game will be played on Jan. 2, 2008 at University of Phoenix Stadium in Glendale, Ariz.
For more information on the Tostitos Fiesta Bowl National Team of the Week, go to www.footballwriters.com or www.fiestabowl.org.