DALLAS (FWAA) – Kansas offensive tackle Anthony Collins, LSU defensive tackle Glenn Dorsey and Michigan offensive tackle Jake Long have been named finalists for the 62nd Outland Trophy, which is awarded to the best interior lineman in college football.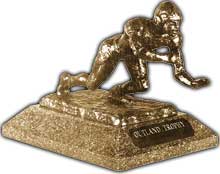 The winner of the Outland Trophy, as selected by the Football Writers Association of America, will be announced on Dec. 6 during the Home Depot ESPNU College Football Awards Show from The Walt Disney World Resort in Lake Buena Vista, Fla.
Either Kansas, LSU or Michigan will produce an Outland Trophy winner for the first time.
Dorsey, who also is a Bronko Nagurski Trophy (Best Defensive Player) finalist, anchors LSU's fourth-rated rush defense. He has registered 11.5 tackles for losses for the once-beaten Tigers and made 55 total tackles. The 6-2, 299-pound senior has broken up three passes and been a major disruptive force for a defense which also ranks second in total defense, ninth in pass defense and ninth in scoring defense nationally.
Long, a member of the FWAA All-America team a year ago as a junior, has allowed only one sack all season and never been flagged for a penalty in 12 games. He has been the primary blocker for Michigan running back Michael Hart, a 1,000-yard rusher this season. The 6-7, 313-pound Long, a senior, is considered the top offensive lineman in the Big Ten Conference.
Collins, a 6-6, 310-pound junior, is the leader on the Jayhawks' offensive line which has helped produce an 11-0 season. The native of Beaumont, Texas, has started 23 games in his career at KU. He has played left tackle this season after playing right tackle as sophomore. The Jayhawks rank seventh in total offense and second in the county in scoring offense.
The Outland Trophy, which has been awarded annually by the FWAA since 1946, is named after the late John Outland, a lineman at Pennsylvania at the turn of the century. The Outland Trophy is the third oldest award in major college football behind the Heisman Trophy and Maxwell Award.
The official 2007 award presentation will be Jan. 10, 2008, in Omaha, Neb., at a banquet sponsored by The Greater Omaha Sports Committee. Oklahoma's Lee Roy Selmon, the 1975 Outland Trophy winner, is expected to receive his trophy there.
The Football Writers Association of America, a non-profit organization founded in 1941, consists of nearly 1,000 men and women across North America who cover college football for a living. The membership includes journalists, broadcasters and publicists, as well as key executives in all the areas that involve the game. The FWAA works to govern areas that include gameday operations, major awards, a national poll and its annual All-America team.
For more information on the Outland Trophy, go to the official website, www.outlandtrophy.com, or contact FWAA executive director Steve Richardson (972-713-6198 or tiger@fwaa.com).