DALLAS (FWAA) – The Football Writers Association of America's 64th All-America Team was announced on Saturday afternoon and shown on ABC television.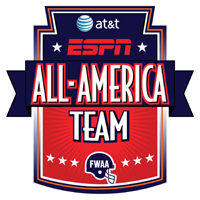 The FWAA Team, the second longest continuously published team in college football, has been a staple of the college football scene since 1944. And for the fourth straight season, the unveiling of the team has been shown on television. This year's sponsor was AT&T.
The 25-man team is one of the youngest, if not the youngest in history, with 15 underclassmen, including three redshirt freshmen and two sophomores, along with 10 juniors and 10 seniors. The Big 12 (seven selections) and Southeastern (six) conferences dominated the team. No other conference had more than three selections.
Included on the team is LSU's standout senior defensive tackle Glenn Dorsey, who became the first player in history to sweep the Outland Trophy (best interior lineman), Bronko Nagurski Trophy (Best Defensive Player) and Lombardi Trophy (best lineman) awards.
Four schools – Arkansas, Kansas, LSU and Missouri – have two players each on the team. There are three repeat All-Americas on the team from 2006: Ohio State junior linebacker James Laurinaitis, Michigan senior offensive tackle Jake Long and Arkansas' junior running back Darren McFadden.
Although the Big 12 had seven players on the team, this is the first time since 1993 that Texas does not have at least one player on the team – a string of 13 straight teams.
The three freshmen on the team – an all-time high – are Missouri's all-purpose star Jeremy Maclin, Texas Tech receiver Michael Crabtree and Tennessee kicker Daniel Lincoln. Crabtree led the nation in receiving; Macklin piled up more all-purpose yards than any freshman in college football history; and Lincoln won two games for the Volunteers with field goals.
Other FWAA All-America team members to win individual awards were running back Darren McFadden of Arkansas (Walter Camp Award, Doak Walker Award); quarterback Tim Tebow of Florida (Davey O'Brien Award and the Maxwell Award); linebacker James Laurinaitis (Butkus Award); wide receiver Michael Crabtree of Texas Tech (Biletnikoff Award); and center Jonathan Luigs of Arkansas (Rimington Trophy). Both McFadden and Tebow are Heisman Trophy finalists.
2007 FWAA ALL-AMERICA TEAM
OFFENSE
Pos.
Player, School
Ht.
Wt.
Cl.
Hometown
QB
Tim Tebow, Florida
6-3
235
So.
Jacksonville, Fla.
RB
Darren McFadden, Arkansas
6-2
215
Jr.
Little Rock, Ark.
RB
Kevin Smith, Central Florida
6-1
211
Jr.
Miami, Fla.
WR
Michael Crabtree, Texas Tech
6-3
208
Fr.
Dallas, Texas
WR
Jordy Nelson, Kansas State
6-3
217
Sr.
Riley, Kan.
TE
Martin Rucker, Missouri
6-6
255
Sr.
St. Joseph, Mo.
OL
Anthony Collins, Kansas
6-5
310
Jr.
Beaumont, Texas
OL
Jake Long, Michigan
6-7
315
Sr.
Lapeer, Mich.
OL
Hercules Satele, Hawaii
6-2
293
Sr.
Long Beach, Calif.
OL
Ryan Stanchek, West Virginia
6-4
300
Jr.
Cincinnati, Ohio
C
Jonathan Luigs, Arkansas
6-4
307
Jr.
Little Rock, Ark.
DEFENSE
Pos.
Player, School
Ht.
Wt.
Cl.
Hometown
DL
Glenn Dorsey, LSU
6-2
303
Sr.
Gonzales, La.
DL
Sedrick Ellis, USC
6-2
305
Sr.
Chino, Calif.
DL
Chris Long, Virginia
6-4
284
Sr.
Ivy, Va.
DL
George Selvie, South Florida
6-4
242
So.
Pensacola, Fla.
LB
James Laurinaitis, Ohio State
6-3
240
Jr.
Hamel, Minn.
LB
J Leman, Illinois
6-3
243
Sr.
Champaign, Ill.
LB
Curtis Lofton, Oklahoma
6-0
238
Jr.
Kingfisher, Okla.
DB
Mike Mickens, Cincinnati
6-0
190
Jr.
Huber Heights, Ohio
DB
Jamie Silva, Boston College
5-11
210
Sr.
East Providence, R.I.
DB
Craig Steltz, LSU
6-2
209
Sr.
New Orleans, La.
DB
Aqib Talib, Kansas
6-2
205
Jr.
Richardson, Texas
SPECIALISTS
Pos.
Player, School
Ht.
Wt.
Cl.
Hometown
K
Daniel Lincoln, Tennessee
6-0
204
Fr.
Ocala, Fla.
P
Louie Sakoda, Utah
5-10
178
Jr.
San Jose, Calif.
RS
Jeremy Maclin, Missouri
6-1
185
Fr.
Kirkwood, Mo.
First selected three years after the organization was formed, the FWAA's inaugural team included Army's Heisman Trophy tandem of Doc Blanchard and Glenn Davis and Georgia Tech's Frank Broyles, who later became Arkansas' head football coach and athletic director.
Over the years, the FWAA Team has highlighted all the game's great players in several media forums.
From 1946-70, LOOK Magazine published the FWAA team and brought players and selected writers to New York City for a celebration. During that 25-year period, the FWAA team was introduced on national television shows by Bob Hope, Steve Allen, Perry Como and others.
After LOOK folded, the FWAA started a long association with NCAA Films (later known as NCAA Productions), which produced a 30-minute television show and sold it to sponsors. The team was part of ABC Television's 1981 College Football Series.
From 1983-90, the team was either on ABC or ESPN, and now has returned to the national spotlight on ABC.
The FWAA team has included most of the Heisman Trophy and Maxwell Award winners over the years and Outland Trophy winners. Those are the three oldest awards in major-college football.
For 64 years, the FWAA has selected an All-America team with the help of its members and an All-America Committee which represents all the regions in the country.
Some of the true greats of the writing profession have helped to select this team over the years: Mark Blaudschun, Grantland Rice, Bert McGrane, Blackie Sherrod, Furman Bisher, Pat Harmon, Fred Russell, Edwin Pope, Murray Olderman, Paul Zimmerman and the list goes on and on.
The Football Writers Association of America, a non-profit organization founded in 1941, consists of nearly 1,000 men and women across North America who cover college football for a living. The membership includes journalists, broadcasters and publicists, as well as key executives in all the areas that involve the game. The FWAA works to govern areas that include gameday operations, major awards, a national poll and its annual All-America team.
For more information on the FWAA All-America Team and the FWAA, contact FWAA executive director Steve Richardson (972-713-6198 or tiger@fwaa.com).
Related links:
• FWAA All-America Team
• All-Time FWAA All-Americans (.pdf)
2007 FWAA ALL-AMERICA COMMITTEE
Mark Blaudschun
Boston Globe
ACC
Chip Brown
The Dallas Morning News
Big 12
Bob Clark
Eugene Register-Guard
Pacific-10
Buddy Davis
Ruston Leader
WAC
Dennis Dodd
cbssports.com
MAC, Independents
Bob Holt
Arkansas Democrat-Gazette
SEC, Sun Belt
Steve Irvine
Birmingham News
Conference USA
Michael Lewis
Salt Lake Tribune
Mountain West
Matt Markey
Toledo Blade
Big Ten
Brett McMurphy
Tampa Tribune
Big East