DALLAS (FWAA) – With their 44-34 win over West Virginia, the Louisville Cardinals (8-0) are the Tostitos Fiesta Bowl National Team of the Week, as selected by the pollsters of the FWAA's Grantland Rice Super 16 Poll for games of the weekend of Nov. 4.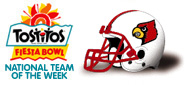 Brian Brohm threw for 354 yards and a touchdown as the Cardinals moved into the national championship hunt with the win over the previously unbeaten Mountaineers.
The Cardinals scored 17 unanswered points after trailing 14-13 to take control of the game. Malik Jackson returned a fumble 13 yards for a touchdown in the third quarter and Trent Guy brought a punt back 40 yards in a 45-second span of the third quarter.
"What a great win," Louisville head coach Bobby Petrino said after the game. "I couldn't be happier for our coaches and our players. We had very good execution on offense and we wanted to be as aggressive as ever because we knew how explosive they were on offense."
Other Tostitos Fiesta Bowl National Team of the Week nominees for the weekend of Nov. 4 included:
• Kentucky (5-4): The Wildcats ended a 9-game losing streak to Georgia with a 24-20 win on Homecoming day.
• Mississippi State (3-7): The Bulldogs snapped a 23-game road SEC losing streak with a 24-16 upset of Alabama, the alma mater of head coach Sylvester Croom.
• Wake Forest (8-1): The Demon Deacons tied a school record for wins after their 21-14 defeat of Boston College. Wake Forest is 8-1 for the first time since 1944.
The FWAA has named a national team of the week since the 2002 season. This is the second season that the award has been sponsored by the Tostitos Fiesta Bowl.
The 16 pollsters of the Grantland Rice Super 16 Poll decide the weekly honor. Each Monday during the 2006 college football season, the FWAA will name the Tostitos Bowl National Team of the Week through Nov. 27.
The Grantland Rice Super 16 Poll, released each Tuesday, has resumed this season. The top-ranked team in the final poll will be awarded the Grantland Rice Trophy as the FWAA's national champion. The FWAA has awarded the trophy each season since 1954. Texas is the defending FWAA national champion and Ohio State is ranked No. 1 in the most current 2006 poll.
Since 1971, the Tostitos Fiesta Bowl has hosted five games that have decided the college football national championship, including two Bowl Championship Series title games. The 2007 game will be played on Jan. 1. The Tostitos Fiesta Bowl, along with the new Tostitos BCS Championship Game, moves to the new Cardinals Stadium in Glendale, Ariz., and will be played on Jan. 8.
For more information on the Tostitos Fiesta Bowl National Team of the Week, go to www.footballwriters.com or www.fiestabowl.org.