DALLAS (FWAA) – With their 33-31 win over USC, the Oregon State Beavers (5-3) are the Tostitos Fiesta Bowl National Team of the Week, as selected by the pollsters of the FWAA's Grantland Rice Super 16 Poll for games of the weekend of Oct. 28.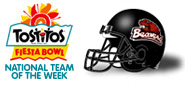 With the help of four USC turnovers, the Beavers jumped out to a 33-10 lead late in the third quarter, but had to hold off a furious rally to end USC's 27-game Pac-10 winning streak. USC's 18-game road winning streak also ended when Oregon State's Jeff Van Orsow deflected a pass on the Trojans' two-point conversion attempt with seven seconds remaining.
The win over USC, ranked No. 3 in the AP poll entering the game, marks the first time since the Beavers have beaten a team ranked that high since 1967. The Beavers beat No. 1 USC that season.
"This is a great win, a big-time win," said Oregon State coach Mike Riley after the game. "This was a great win over a great program."
Other Tostitos Fiesta Bowl National Team of the Week nominees for the weekend of Oct. 28 included:
• Temple (1-8): Travis Shelton caught a 43-yard touchdown pass and returned a kickoff 96 yards for another score as the Owls snapped their 20-game losing streak with a 28-14 win over Bowling Green.
The FWAA has named a national team of the week since the 2002 season. This is the second season that the award has been sponsored by the Tostitos Fiesta Bowl.
The 16 pollsters of the Grantland Rice Super 16 Poll decide the weekly honor. Each Monday during the 2006 college football season, the FWAA will name the Tostitos Bowl National Team of the Week through Nov. 27.
The Grantland Rice Super 16 Poll, released each Tuesday, has resumed this season. The top-ranked team in the final poll will be awarded the Grantland Rice Trophy as the FWAA's national champion. The FWAA has awarded the trophy each season since 1954. Texas is the defending FWAA national champion and Ohio State is ranked No. 1 in the most current 2006 poll.
Since 1971, the Tostitos Fiesta Bowl has hosted five games that have decided the college football national championship, including two Bowl Championship Series title games. The 2007 game will be played on Jan. 1. The Tostitos Fiesta Bowl, along with the new Tostitos BCS Championship Game, moves to the new Cardinals Stadium in Glendale, Ariz., and will be played on Jan. 8.
For more information on the Tostitos Fiesta Bowl National Team of the Week, go to www.footballwriters.com or www.fiestabowl.org.