DALLAS (FWAA) – With their 27-10 win at Auburn, the Arkansas Razorbacks (4-1) are the Tostitos Fiesta Bowl National Team of the Week, as selected by the pollsters of the FWAA's Grantland Rice Super 16 Poll for games of the weekend of Oct. 7.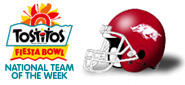 Darren McFadden and Felix Jones combined for 249 yards and two touchdowns on the ground and Arkansas registered five sacks while holding the Tigers to 60 yards rushing.
Auburn is the highest ranked team to fall to the Razorbacks since Arkansas knocked off No. 1 Texas in 1981. The Tigers entered the game ranked second in the Associated Press poll.
"We were just trying to come out and earn some respect and show the world we're not a pushover," said Arkansas receiver Marcus Monk after the game.
Other Tostitos Fiesta Bowl Bowl National Team of the Week nominees for the weekend of Oct. 7 included:
• California (5-1): Nate Longshore threw three touchdown passes and Justin Forsett added 163 yards on the ground as the Golden Bears dominated Oregon, 45-24.

• Florida (6-0): Tim Tebow threw two touchdown passes and ran for another as Florida moved to 6-0 for the first time in ten years with a 23-10 win over LSU.
The FWAA has named a national team of the week since the 2002 season. This is the second season that the award has been sponsored by the Tostitos Fiesta Bowl.
The 16 pollsters of the Grantland Rice Super 16 Poll decide the weekly honor. Each Monday during the 2006 college football season, the FWAA will name the Tostitos Bowl National Team of the Week through Nov. 27.
The Grantland Rice Super 16 Poll will resume this season on Oct. 16. The top-ranked team in the final poll will be awarded the Grantland Rice Trophy as the FWAA's national champion. The FWAA has awarded the trophy each season since 1954. Texas is the defending FWAA national champion and Ohio State is ranked No. 1 in the initial 2006 poll.
Since 1971, the Tostitos Fiesta Bowl has hosted five games that have decided the college football national championship, including two Bowl Championship Series title games. The 2007 game will be played on Jan. 1. The Tostitos Fiesta Bowl, along with the new Tostitos BCS Championship Game, moves to the new Cardinals Stadium in Glendale, Ariz., and will be played on Jan. 8.
For more information on the Tostitos Fiesta Bowl National Team of the Week, go to www.footballwriters.com or www.fiestabowl.org.