DALLAS (FWAA) – With their 38-27 win at Virginia Tech, the Georgia Tech Yellow Jackets (4-1) are the Tostitos Fiesta Bowl National Team of the Week, as selected by the pollsters of the FWAA's Grantland Rice Super 16 Poll for games of the weekend of Sept. 30.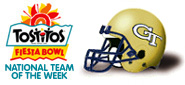 The Ramblin' Wreck jumped out to a 21-0 lead in the game's first 10:48 as Calvin Johnson caught a pair of touchdown passes and Tashard Choice ran for a third score. Georgia Tech then held the Hokies to 42 yards rushing on the day and built a 38-13 lead after three quarters.
Johnson finished the day with six catches for 115 yards and Choice ran for 107 yards on 18 carries, including a second touchdown.
Other Tostitos Fiesta Bowl Bowl National Team of the Week nominees for the weekend of Sept. 30 included:
• BYU (3-2): The Cougars stopped the nation's longest winning streak at 13 games with a decisive 31-17 win at TCU.

• Illinois (2-3): The Fighting Illini stunned Michigan State, 23-20, on Jason Reda's 39-yard field goal with six seconds remaining.

• Rice (1-4): Following the death of teammate Dale Lloyd, the Owls dominated Army at West Point, 48-14, to register their first win of the season.
The FWAA has named a national team of the week since the 2002 season. This is the second season that the award has been sponsored by the Tostitos Fiesta Bowl.
The 16 pollsters of the Grantland Rice Super 16 Poll decide the weekly honor. Each Monday during the 2006 college football season, the FWAA will name the Tostitos Bowl National Team of the Week through Nov. 27.
The Grantland Rice Super 16 Poll will resume this season on Oct. 16. The top-ranked team in the final poll will be awarded the Grantland Rice Trophy as the FWAA's national champion. The FWAA has awarded the trophy each season since 1954. Texas is the defending FWAA national champion and Ohio State is ranked No. 1 in the initial 2006 poll.
Since 1971, the Tostitos Fiesta Bowl has hosted five games that have decided the college football national championship, including two Bowl Championship Series title games. The 2007 game will be played on Jan. 1. The Tostitos Fiesta Bowl, along with the new Tostitos BCS Championship Game, moves to the new Cardinals Stadium in Glendale, Ariz., and will be played on Jan. 8.
For more information on the Tostitos Fiesta Bowl National Team of the Week, go to www.footballwriters.com or www.fiestabowl.org.