DALLAS (FWAA) – With their 40-37 win over Michigan State, the Notre Dame Fighting Irish (3-1) are the Tostitos Fiesta Bowl National Team of the Week, as selected by the pollsters of the FWAA's Grantland Rice Super 16 Poll for games of the weekend of Sept. 23.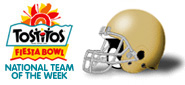 Notre Dame fought back from an early 17-0 hole and a 37-21 deficit entering the fourth quarter to win a game that celebrated the 40th anniversary of the famed 10-10 tie between the two schools in 1966.
Cornerback Terrail Lambert capped the rally by returning an interception 19 yards for a touchdown with 2:53 remaining to give Notre Dame its first lead of the day. Quarterback Brady Quinn finished the day 20-of-36 for 319 yards with five touchdowns as Notre Dame won its seventh straight road game and its third straight game in East Lansing.
Other Tostitos Fiesta Bowl Bowl National Team of the Week nominees for the weekend of Sept. 23 included:
• Arkansas (3-1): The Hogs held off Alabama, 24-23 in overtime, to improve to 6-1 all-time in overtime and start 2-0 in SEC play for the first time since 1996.

• N.C. State (2-2): The Wolfpack rebounded from consecutive losses with a dramatic 17-15 win at Boston College in the game's final seconds.
The FWAA has named a national team of the week since the 2002 season. This is the second season that the award has been sponsored by the Tostitos Fiesta Bowl.
The 16 pollsters of the Grantland Rice Super 16 Poll decide the weekly honor. Each Monday during the 2006 college football season, the FWAA will name the Tostitos Bowl National Team of the Week through Nov. 27.
The Grantland Rice Super 16 Poll will resume this season on Oct. 16. The top-ranked team in the final poll will be awarded the Grantland Rice Trophy as the FWAA's national champion. The FWAA has awarded the trophy each season since 1954. Texas is the defending FWAA national champion and Ohio State is ranked No. 1 in the initial 2006 poll.
Since 1971, the Tostitos Fiesta Bowl has hosted five games that have decided the college football national championship, including two Bowl Championship Series title games. The 2007 game will be played on Jan. 1. The Tostitos Fiesta Bowl, along with the new Tostitos BCS Championship Game, moves to the new Cardinals Stadium in Glendale, Ariz., and will be played on Jan. 8.
For more information on the Tostitos Fiesta Bowl National Team of the Week, go to www.footballwriters.com or www.fiestabowl.org.