DALLAS (FWAA) – With their 47-21 win over Notre Dame, the Michigan Wolverines (3-0) are the Tostitos Fiesta Bowl National Team of the Week, as selected by the pollsters of the FWAA's Grantland Rice Super 16 Poll for games of the weekend of Sept. 16.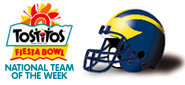 Mike Hart ran for 124 yards and a touchdown and Chad Henne threw for 220 yards and three touchdowns – all to Mario Manningham in the first half – as the Wolverines ended a three-game losing streak at Notre Dame Stadium and a six-game skid in road openers. The win was Michigan's first in South Bend since 1994 and the 47 points were the most scored against the Fighting Irish at home in 46 years.
"This was going to be our big test," said Michigan's LaMarr Woodley, who returned a fumble 54 yards for a touchdown. "We passed the test today."
Michigan is the second straight Big Ten team to earn the team of the week honor.
Other Tostitos Fiesta Bowl Bowl National Team of the Week nominees for the weekend of Sept. 16 included:
• Louisville (3-0): The Cardinals defeated Miami for the first time in 11 meetings, 31-7, with a dominating performance.

• TCU (3-0): The Horned Frogs avenged a 70-35 loss to Texas Tech with a 12-3 win over the Red Raiders to extend the nation's longest winning streak to 13.
The FWAA has named a national team of the week since the 2002 season. This is the second season that the award has been sponsored by the Tostitos Fiesta Bowl.
The 16 pollsters of the Grantland Rice Super 16 Poll decide the weekly honor. Each Monday during the 2006 college football season, the FWAA will name the Tostitos Bowl National Team of the Week through Nov. 27.
The Grantland Rice Super 16 Poll will resume this season on Oct. 16. The top-ranked team in the final poll will be awarded the Grantland Rice Trophy as the FWAA's national champion. The FWAA has awarded the trophy each season since 1954. Texas is the defending FWAA national champion and Ohio State is ranked No. 1 in the initial 2006 poll.
Since 1971, the Tostitos Fiesta Bowl has hosted five games that have decided the college football national championship, including two Bowl Championship Series title games. The 2007 game will be played on Jan. 1. The Tostitos Fiesta Bowl, along with the new Tostitos BCS Championship Game, moves to the new Cardinals Stadium in Glendale, Ariz., and will be played on Jan. 8.
For more information on the Tostitos Fiesta Bowl National Team of the Week, go to www.footballwriters.com or www.fiestabowl.org.